Drosera mannii in cultivation.
This is a guide to help identify pygmy Drosera in cultivation and in the field. It can be viewed on personal computers, tablets and smart phones.
The photos are courtesy of Richard Nunn, Thilo Krueger, Manfred Meisterl, Steve Fretwell and Stewart McPherson. Additional photos by John Brittnacher of plants in cultivation.
Descriptions are courtesy of Allen Lowrie, Richard Nunn, Alistair Robinson, Greg Bourke and Andreas Fleischmann. 2017. Drosera of Oceana. IN: Drosera of the World, Volume 1-2. Redfern Natural History Productions, Poole, Dorset, England.
Additional information and photos are in
Richard Nunn and Hans Lambers. 2017. The impact of soil type on Pygmy Drosera distribution. Carniv. Pl. Newslett. 46(1):13-19 (PDF)
Thilo Alexander Krueger and Andreas Fleischmann. 2020. When three become two: Drosera coalara links Drosera citrina with Drosera nivea. Carniv. Pl. Newslett. 49(1):6-16. (PDF)
Bourke, G., Nunn, R. 2012. Australian Carnivorous Plants. Redfern Natural History Productions Ltd., Poole.
Erickson, R. 1968. Plants of Prey in Australia. University of WA Press.
Lowrie, A. 1987–1998. Carnivorous Plants of Australia, vol. 1–3, Nedlands, Western Australia.
Marchant, N.G., & George, A.S. 1982. Droseraceae. Flora of Australia, Vol. 8. pp. 9–64.
Salmon, B. 2001. Carnivorous Plants of New Zealand. Ecosphere Publications.
This guide was produced by and is maintained by John Brittnacher.  
Released February 2021. Latest update May 2022.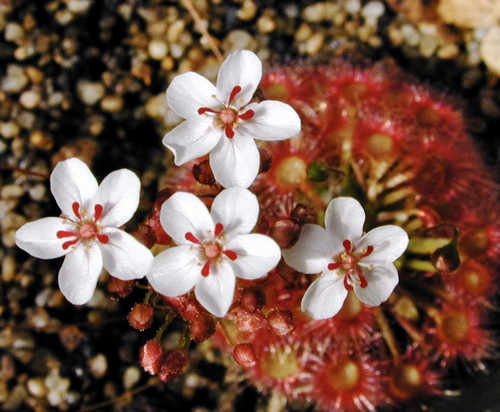 Drosera × badgerupii in cultivation.
Species List
Index