The only known location of Nepenthes thorelii, Lo Go-Xa Mat National Park, Tay Ninh Province, Vietnam. Photo by Richard Nunn.
There are currently three recognized Nepenthes species found in Vietnam: Nepenthes thorelii, Nepenthes mirabilis, and Nepenthes smilesii have been officially recorded, and Nepenthes kampotiana is thought to have populations in Vietnam, although has never been officially recorded.
Species covered in the article:
Nepenthes kampotiana
Nepenthes mirabilis
Nepenthes smilesii
Nepenthes thorelii
Richard Nunn and Chiem Nguyen Anh Vu. 2016. An account of the Nepenthes species of Vietnam. Carniv. Pl. Newslett. 45(3):93-101. https://doi.org/10.55360/cpn453.rn503
Page created June 2022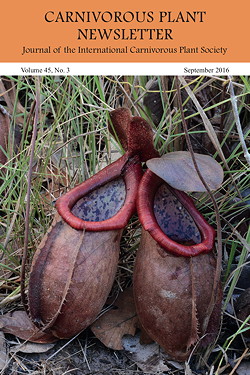 Two lower pitchers of the recently rediscovered and critically endangered Nepenthes thorelii at its only known location in Lo Go-Xa Mat National Park on the Vietnam-Cambodia border. Photo by Richard Nunn.