Utricularia dunlopii growing in its typical sandstone seepage habitat on the Arnhem Plateau, Northern Territory, Australia. Photo Thilo Krueger.
In northern Australia there grows a most remarkable group of 6 species of Utricularia with flesh-coloured flowers and an upper or lower corolla lip that has transformed into a pair of tall, erect antennae-like flower lobes. These characters are quite unusual for the genus, and there are numerous hypotheses as to the reasons for these adaptions.
Read the full article PDF on the antennae-flowered Utricularia.
Species covered in the article:
Utricularia albertiana
Utricularia antennifera
Utricularia capilliflora
Utricularia dunlopii
Utricularia dunstaniae
Utricularia lowriei
Richard Nunn. 2022. An account of the antennae-flowered Utricularia of northern Australia. Carniv. Pl. Newslett. 51(3):133-142. https://doi.org/10.55360/cpn513.rn967
Page created October 2022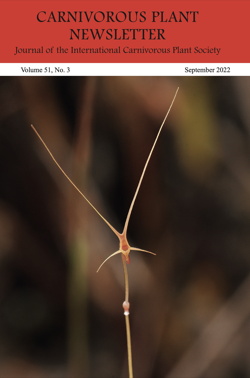 Flower of Utricularia dunlopii, Howard Springs, Northern Territory, Australia. Photo by Richard Nunn.