Three webpages with major updates
Webpages with recent major updates:
Guide to the Pygmy Drosera — The guide in the About CPs/Taxonomy section was expanded to six pages in book format and formatted to be easy to use on phones, tablets, and computers at home and in the field. It includes all 54 species and 6 taxonomically named hybrids with 332 new images.

Drosera peltata Species Complex — The page in the About CPs/Taxonomy section was updated with the addition and discussion of Drosera gunniana as well as more and larger photos.

LED Plant Lighting — The Fluorescent Plant Lighting page was removed as obsolete and the LED Plant Lighting page in the Grow CPs/Soils, Water, Light section rewritten to provide a technical and practical overview of lighting for plants grown indoors. As LED lighting technology continues to evolve, expect the page to be updated regularly.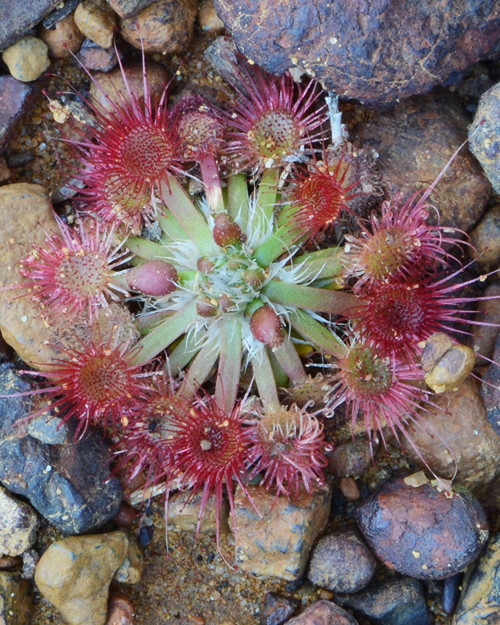 Drosera spilos, a pygmy Drosera found in Western Australia. Photo © Richard Nunn.
Free copy of March 2021 CPN
Not a member?
Become a new member of the ICPS through April 15, 2021 and get a free printed copy of the March issue of CPN.
The March issue has been mailed to members. Members also may download PDF versions of all CPN issues since 1972 for personal use on our ClubExpress website or purchase them on a DVD.
(The free printed copy offer is only valid for new memberships. However, if your membership is lapsed more than 6 months, send a nice message to the Membership Coordinator from our ClubExpress website asking for a free copy after you renew.)
Members: There are some countries where we either cannot currently ship CPNs or there will be long delivery delays. The March issue will be available via PDF on ClubExpress and some individual articles can be viewed at cpn.carnivorousplants.org starting in March.
If we run out of extra March issues, this offer may need to be withdrawn early.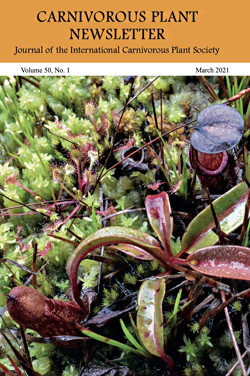 New ICPS Activities = New Webpages
There are three new subsections of the ICPS website corresponding to three new ICPS activities:
ICPS Achievement Awards — The ICPS has presented four lifetime achievement awards and has had 6 special remembrances and tributes in CPN. Learn more about these exceptional individuals.

World Carnivorous Plant Day — The first Wednesday of May is World Carnivorous Plant Day. The ICPS will have activities celebrating that day.

ICPS Photo Contests — The annual ICPS photo contests are associated with ICPS World Conferences and World Carnivorous Plant day. Contribute your photos to the contest.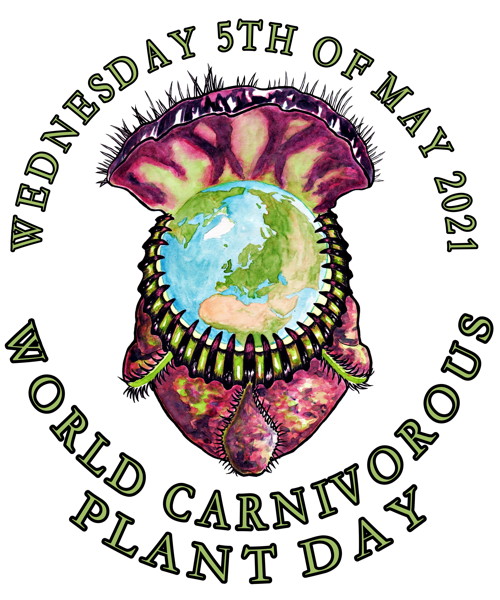 ICPS Conference 2022 Japan Invitation

13TH ICPS CONFERENCE - JAPAN: POSTPONED UNTIL 2022
The 13th ICPS Conference - Japan has been postponed two years because of the COVID-19 pandemic. We now plan to hold the conference in May 2022.
We will keep everyone updated and hope to see many researchers and enthusiasts of carnivorous plants in Himeji, Japan, in May 2022.
Photo Contest 2021
Enter your photos for a chance to WIN one of three 1-year ICPS memberships!
Despite our 2021 biennial conference in Japan being delayed once again due to COVID-19, we will still be holding a photo contest this year. Entries of the photo contest will be presented in a slide show on ICPS's first World Carnivorous Plant Day (WCPD). WCPD will take place the first Wednesday of May. This year the event falls on May 5, 2021. We will use this date to celebrate carnivorous plants around the world and their associated research and conservation efforts.
All photo entries must be submitted by April 23. Entries are pre-judged before the WCPD. The entry deadline is not flexible, so please plan accordingly.
Please see the Photo Contest Rules for more information.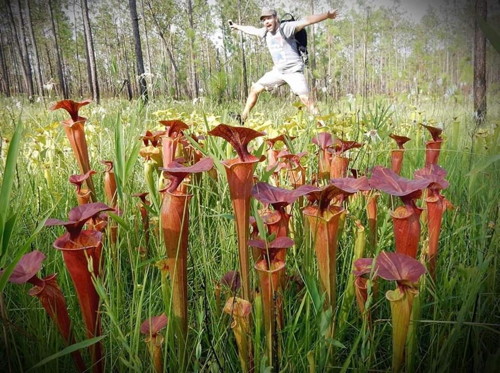 2020 winner Julien Baruch (USA) - People and Plants Category – Sarracenia flava with a hooligan fluttering about.
December 2020 CPN
The December 2020 issue of CPN is now out.
The Carnivorous Plant Newsletter (CPN) is the official publication of the International Carnivorous Plant Society. CPN is published in March, June, September, and December.
Features of CPN include horticultural articles, research papers, field trip reports, conservation news, book and literature reviews, communications from members, cultivar and species descriptions, and meeting announcements.
Contents of the December 2020 Issue 49:4
From the jungle back to the drawing board … and back: An interview with François Sockhom Mey — Marcel van den Broek
First observations of UV-induced fluorescence in Heliamphora (Sarraceniaceae) and other tepui flora. [Summary of Technical Contribution Published Online] — Michal R. Golos (PDF)
First observations of UV-induced fluorescence in Heliamphora (Sarraceniaceae) and other tepui flora — Michal R. Golos (Published Online: Abstract | PDF)
Drosera capensis: some variation in cultivation and in the wild — Robert Gibson
Hypothesis of tumbleweed-like dispersal of Drosera seeds — Robert Gibson
Witanowski's discovery - and how its early misinterpretation and subsequent neglect continue to impede scientific progress and insight — Jan Schlauer