Bob Ziemer is the managing editor of Carnivorous Plant Newsletter. If you would like to contact him for additional information about the Newsletter, please contact him at bob@carnivorousplants.org.
A subscription to the Carnivorous Plant Newsletter is a benefit of International Carnivorous Plant Society membership. To join, please see the membership instructions.
Libraries and Subscription Managers should contact us using our membership website, icps.clubexpress.com, for current rates and other information.
If you are from the media or if you have something you wish to submit to the Newsletter and need more information than is provided in the instructions to authors, please contact the managing editor at bob@carnivorousplants.org.
Unless otherwise indicated, all material submitted for publication was original and unpublished. If copyrighted material was submitted, it was accompanied by a written expressed license to reproduce it in Carnivorous Plant Newsletter (CPN), signed by the copyright holder. Submission of materials to Carnivorous Plant Newsletter for publication was with the understanding that the International Carnivorous Plant Society (ICPS) will retain nonexclusive unlimited rights to it. The materials may be republished on the ICPS world wide web site, or other ICPS publications (credit to the authors will always be given).

The International Carnivorous Plant Society makes this electronic version of Carnivorous Plant Newsletter available only for personal use. The contents may not be modified, reused or redistributed in any form without express written permission from the CPN Editors. This includes posting the files on web sites, distributing the material on CD or DVD, and using the images or text on web sites.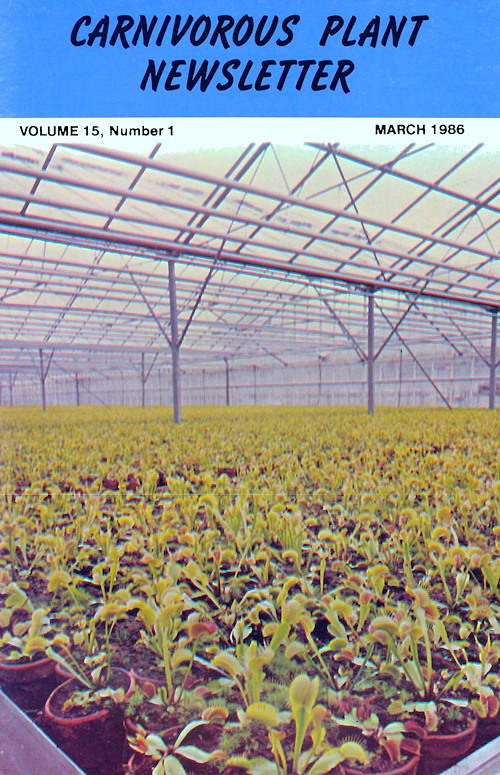 A visit to a carnivorous plant nursery in the Netherlands, March 1986.