The International Carnivorous Plant Society makes an electronic version of Carnivorous Plant Newsletter available to members for personal use. Back issue volumes 1-35 of Carnivorous Plant Newsletter (1972-2006) and their associated articles are scanned bitmaps and presented in PDF format. Volumes 36 and higher (2007-present) and their associated articles are standard, non-scanned PDFs. To read the PDF files you need Adobe Reader which can be obtained free of charge from the Adobe web site.
The contents of the electronic version may not be modified, reused or redistributed in any form without express written permission from the CPN Editors. This includes posting the files on web sites, distributing the material on CD or DVD, and using the images or text on web sites.
An index to all the CPN articles is on the CPN website as well as a list of recent issue table of contents.
A limited number of recent printed issues of CPN are available and may be purchased by members at the ICPS Store on our membership web site. 
Members may purchase a DVD-R containing PDFs of back issues at the ICPS Store.

The PDFs of back issues have been moved to our ClubExpress membership web site. Members may download PDFs of individual CPN issues on the CPN Download page. You must log in to access the CPN Download page.
On reprinting articles or to contact the editors
A brief history of the CPN scanning project
The files are © International Carnivorous Plant Society. All rights reserved.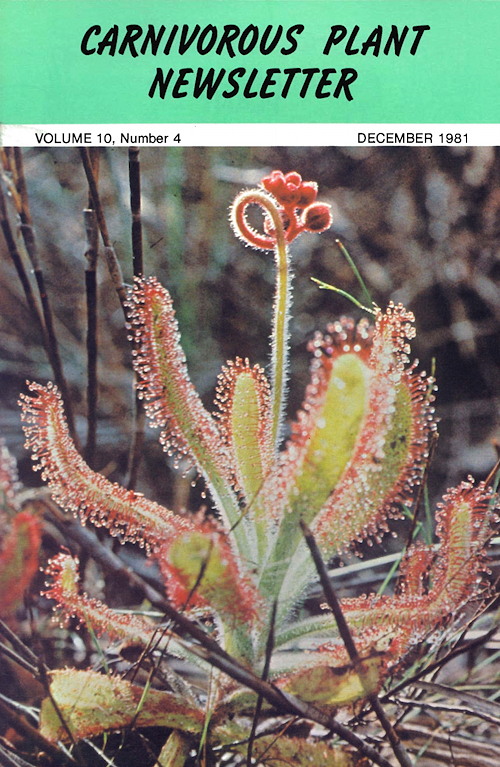 Drosera hilaris at Fernkloof, Republic of South Africa, was on the cover of CPN 10(4) December 1981