In 1972, Don Schnell (a pathologist) and Joe Mazrimas (a biochemist) worked together to release Carnivorous Plant Newsletter, volume 1, issue 1. In 1978, they were joined by Leo Song (the manager of the California State University, Fullerton Biological Sciences greenhouse) and Larry Mellichamp (a botanist). This eclectic and passionate group molded Carnivorous Plant Newsletter into a high quality, information rich journal.
In 1997, editorial leadership shifted to Barry Rice and Jan Schlauer. Steve Baker conducted the page layout. The journal saw enormous growth in its professional appearance, and many new species were published within its pages. In 2009, Stephen Davis took over the role of managing editor. In 2010, Bob Ziemer became managing editor with assistance from Barry Rice, Jan Schlauer, and Fernando Rivadavia.
The entire staff is dedicated and works on a volunteer basis. As a result, subscription rates are very low. Usually, special interest societies form and subsequently produce newsletters or journals. But Carnivorous Plant Newsletter has an unusual history and does not fit this mold. The parental organization, the International Carnivorous Plant Society, did not come into being until 1980, the ninth year of the Newsletter's publication. The Society became a non-profit corporation in 2002.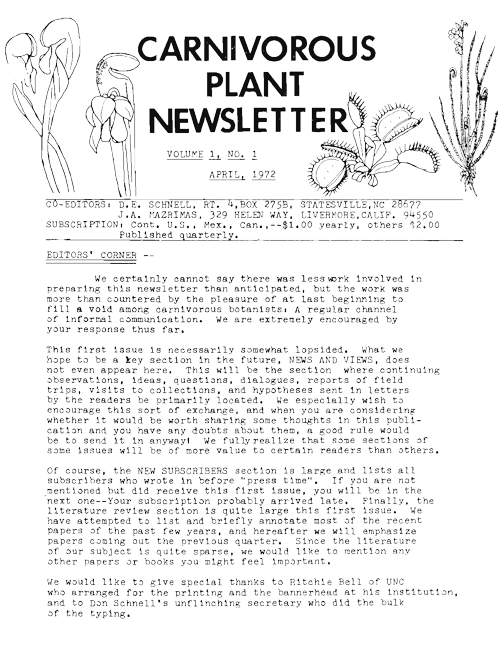 CPN volume 1 number 1 April 1972
The first issue of CPN.