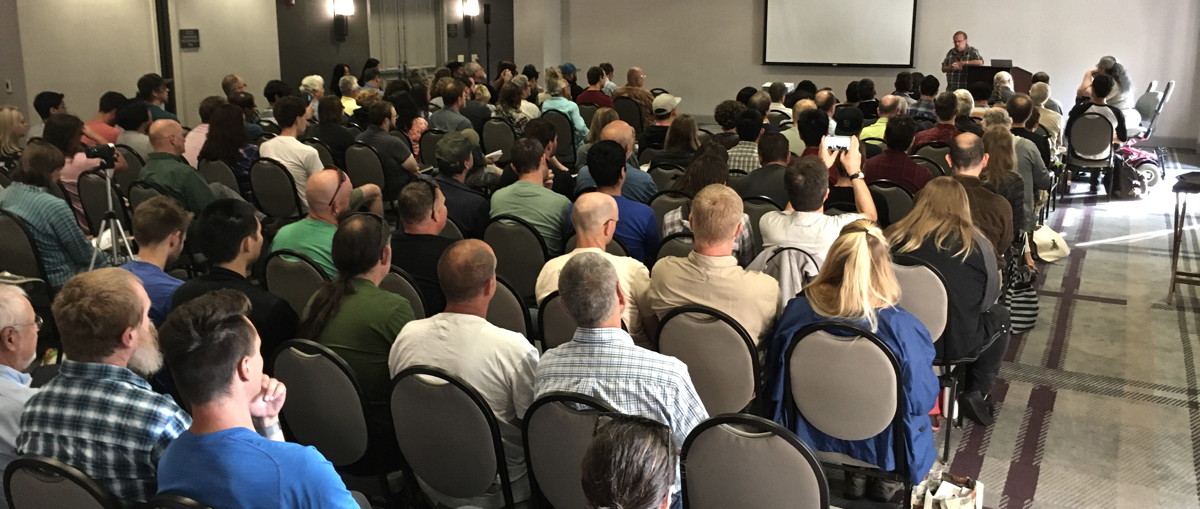 The lecture hall, filled with rapt carnivorees. Photo by John Brittnacher.
The 12th International Carnivorous Plant Society conference was held 3-5 August, 2018, in the Hyatt Regency in Sonoma Wine Country located in downtown Santa Rosa, California, USA. The location was chosen because it could simultaneously hold the conference lecture space, plant show, sales area, and rooms for attendees all in one central location within easy walking distance of restaurants and other amenities.
The conference was sponsored by the Bay Area Carnivorous Plant Society (BACPS), the oldest carnivorous plant society in the United States, and the world-renowned carnivorous plant nursery California Carnivores with additional support from the Los Angeles Carnivorous Plant Society and the San Diego Carnivorous Plant Society. It is with much gratitude and great appreciation that we applaud Damon Collingsworth, Daniela Ribbecke, Lauren Paulson, Gina Morimoto, Arthur Yin, Brian Lipinski, Allyson Long, Rebecca Robinson, Pablo Ramudo, Doris Quick, Daryt Jov Frank, Stephen Davis, and their team who worked tirelessly to plan and coordinate this event...